Palmetto Pig
Address: 1002 AJ Amick Road, Ballentine, SC 29063
Phone: 803-732 1227
Web site: www.palmettopiglakemurray.com
Cards: yes, no checks
Hours of operation: Wed. – Saturday, 11:00-9:00, Sunday, 11:00-3:00.
Google Map location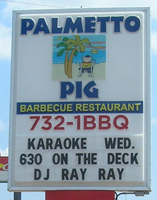 " Go for the hash."

My wife and I eat at Palmetto Pig in Ballentine at least once a month. The catch is that we always eat the seafood. Which, I might add, is great.
Palmetto Pig, which is near Lake Murray, is following in the footsteps of barbeque houses one often finds in North Carolina; that is, they serve fish and seafood as well as barbeque. Good thing too, since their barbeque is more like pulled roast pork than real pit-cooked barbeque.
Palmetto Pig has some connection to Palmetto Pig in Columbia (the girl at the cash register said it was "like a franchise") but the two restaurants have different owners. The recipes are supposed to be the same so that what you get at one will be like what you get at the other. This primarily means that the big hit on the buffet line (all you can eat) is the Duke's style red hash and the crispy pork skins.
Like Palmetto Pig in Columbia the chicken is special. It is most tender and juicy and it is the sort of fried chicken that makes a trip to the restaurant worthwhile all on its own.
The sides are generally good. I find the slaw, which is made fresh, a bit mild so I add some of the ever present Texas Pete to spice it up. But the hushpuppies are good, the mac and cheese is standard (it would really benefit from some sharp cheese), the green beans are good enough and the baked beans are fine.
They have three kinds of sauce that you have to get at the same station where you get your forks and napkins. There is a vinegar and pepper sauce which is fine but it simply does not enhance the roast pork that you get for barbeque. The standout sauce is the "Original" by which they mean a Duke's type sauce that is generally referred to in South Carolina as "Orangeburg Sweet Sauce." It is actually quite good and it certainly helps the pork. The third sauce is a "mustard" sauce that is even sweeter and thicker than the Original. Stick with the Original.
And don't forget to double up on the hash and rice and pork skins.