McCabe's
Address:
480 N Brooks St, Manning, SC 29102
Phone:
(803) 435-2833
Cost:
buffet style S8.95 and to-go by item
Cards:
Yes
"This is the original 100 Mile Barbeque."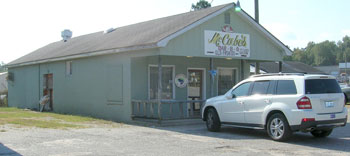 Some people consider McCabe's to be the ultimate Temple of Barbeque in South Carolina. Which is remarkable when you consider that McCabe's is so small that it will seat only about 50 people if you pack them in four to a booth. Smallness isn't an issue for McCabe's loyal fans, however, who have taken on the status of cult followers.
McCabe's is in Manning, SC not far off the main square and South Carolina Highway 521 and one block off of US 301.
People regularly leave Columbia in the center of the state and drive to Manning to eat and get some of his low country style vinegar and pepper barbeque. When Columbians leave to go to the beach that always take a detour to Manning so they can stock up on BBQ for the week and one Atlanta Georgian who commented on a barbecue food blog that he does the same when he goes to the beach.
McCabe may be small, but the flavors he dishes up are large. He cooks in pits that he built himself over real coals that he creates himself. Almost everyone working in the restaurant is family one way or another or they've been there so long they are almost like family.
McCabe usually he serves it up buffet style but sometimes he even has a pig picking. And that buffet line features real down-home cooking by real down-home cooks. They always serve fresh vegetables when they are in season and the high summer, when the famous Manning tomatoes are being picked and shipped, some people will travel many miles just to eat a plate of nothing but barbeque and those remarkable red delicacies.
One of the remarkable features about McCabe's is that they will cook your hog or half hog, or ham, or turkey or even chickens for you if you will bring them in. They do this for a nominal fee so family reunions, church picnics and other local get-togethers often times bring their own meat in for the master barbeque cooks at McCabe's to work their magic.
The deserts are home made by family members but that's just the icing on the cake (if you will allow a little pun). That down home food added to the exceptional barbeque makes the trip to McCabe's worth it regardless of where you live.